How many tickets did Broadway sell on Black Friday?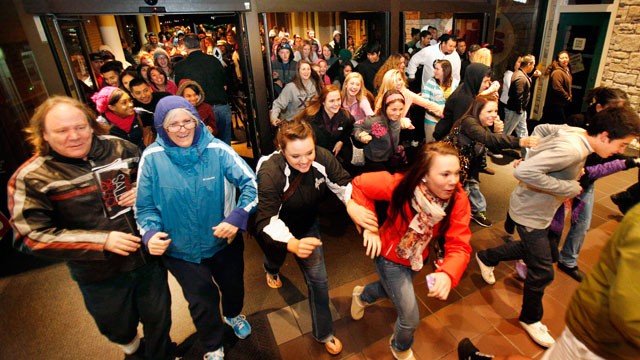 So how many did we sell?  Are you ready?  Drumroll please . . .
The answer is . . .
I have no idea.
Nor do I have any idea how many tickets we sold on Cyber Monday.
I do know how the rest of the business world did (down on Black Friday, up on Thanksgiving).  Heck, I even know the results of specific retailers thanks to articles like this one.
But Broadway's sales results on one of the biggest sale dates of the year?
God The Ticketing Agencies only know.
Broadway publishes its grosses every week, both as an aggregate and on an individual show by show basis.  There have been many an argument to stop publishing the numbers, but it never gets very far.  One of the best arguments I've heard for publishing the results is because that's what big business does.  Hollywood reports its grosses, so why not Broadway?  If we want people to take us seriously as an industry, then yes, we gotta open up our books.
That's why I'm advocating that we also start revealing sales figures on important days throughout the year. Individual shows sometimes do it after opening (but only to brag).  But how about how we sold over the Black Friday/Cyber Monday weekend?  Or how sales were during the Jewish Holidays in September?  Or after the Tony Awards?  We know ratings, but how much does the industry as a whole sell the next day?
We're obsessed with grosses.  I publish them on my blog every Monday because so many people asked for them.
But we seem to forget about the daily/weekly sales figures . . . but since those numbers represent future earnings, they may be more important.
Now we just have to figure out how to make them public.
(Got a comment? I love 'em, so comment below! Email Subscribers, click here then scroll down to say what's on your mind!)
_ _
FUN STUFF:
– Win Two Tickets to Annie on Broadway! Click here to enter.
– Win $500 in our Songwriting Contest!  Click here to enter.
– The 6th Annual Producer's Perspective Social on Thursday 12/12 is sold out!  Click here to sign up for the waiting list.
Podcasting
Ken created one of the first Broadway podcasts, recording over 250 episodes over 7 years. It features interviews with A-listers in the theater about how they "made it", including 2 Pulitzer Prize Winners, 7 Academy Award Winners and 76 Tony Award winners. Notable guests include Pasek & Paul, Kenny Leon, Lynn Ahrens and more.